i really like this couch. when I saw it, at the thrift store, i knew i had to have it. i didn't know how i would drag it home in my tiny car, but i knew it'd be mine. it was beat up, with a worn, but pretty patina on the seat cushions, and awesome splatters of paint on the arm.
is it weird to say this couch is like me? with a history, but also great potential for a great future (esp with some new handmade throw pillows) i thought graduating college would mean endless freedom to work on the ever-growing list projects and ideas that i never had time for before. but time is daunting! free time means valuable time, time that could be spent allowing my life to stand still, or making choices that will allow my opportunities to grow tremendously.
i'm not sure if this free time is under-inspiring, or over-inspiring. there are so many things I want to do, a laundry list of places i want to go. by the time i sit down to make a blog post, my brain is already on to the next thing, and i am sorry for that!
thank rebecca /
a daily something
, lisa /
hello, suburbia
, and lauren /
laurenchanting
for this post. i met up with them for dinner at
dogfish head ale house
this weekend and it was amazing! when the internet is such a huge part of your life, it is relieving to have a conversation without having to stop, reverse, and explain so many details to your non-blog friends. (the blogoshpere really makes absolutely no sense to the rest of the world.)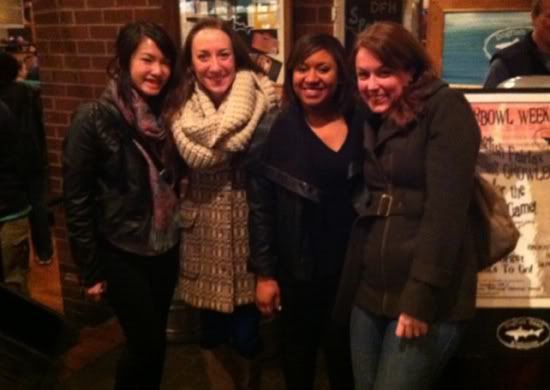 they reminded me about the fun of blogging, and sharing your interest and dreams with the people out there who are like-minded. and if blogging brings to me nothing more than great people like them, then i'm satisfied!
moving forward it will be my best effort to post more regularly. but i want my blog to reflect me, my thoughts, my likes, and my projects, and that honestly just doesn't come every day. my hope is that when i do post, it will be true content. having so many interests does not have to be overwhelming. i just need to make the efforts to do the things i feel will bring me closer to my goals. and i'll try to share as much as possible.